Consultation
Consultation fees from just £44  for an initial 45 min consultation and treatment. So Thats a FREE 15 mins with your first consultation!!Subsequent treatments last about 30 minutes.
More and more people nowadays are choosing to consult an Osteopath for their back pain instead of just 'putting up with it' and hoping it will go away. Britain's Osteopaths treat over 7 million patients a year! It is not necessary to see your doctor before consulting an Osteopath. Martin Davies & Associates, the area's longest established practice of Registered Osteopaths, charges for consultation and treatment at the Surgeries from only £44.00. The initial consultation takes about 45 minutes and subsequent visits last at least half an hour.
Dedicated to Pain Relief
For over 34 years the practitioners at 'Martin Davies & Associates' based in Crewe, Nantwich, Stockport & Alsager, have been using their highly trained skills as Osteopaths to help remedy those aches and pains caused by the rigors of everyday life.
What do Osteopaths Treat?
Osteopaths are widely known for treating the common 'bad back', but the scope is far wider than that, they spend most of their time treating very common and disabling problems which affect the back and muscles of the rest of the body. Most people are aware that four out of five Britons will be crippled by backache at some time in their lives. The large majority of back pains result from mechanical disturbances of the spine such as postural strain, joint derangements and spinal disc injuries. These can be relieved or completely cured by carefully designed Osteopathic treatment.
Special Offer for this MONTH ONLY! 
Bring the voucher above in to the practice for £5 off your initial consultation for all new patients to our practices only! THATS ONLY £39 for a 45 minute consultation! Cannot be used in conjunction with any other promotional offers.
Price Promise!
We will match the consultation fee of any local Osteopath (5 mile radius per surgery) as we doubt you can find any cheaper!
What to expect during your first appointment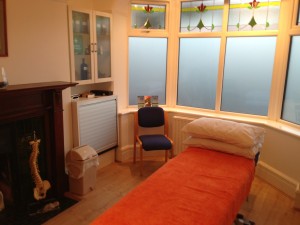 Thank you for booking an appointment with
our practice. We know that attending your
first appointment with an osteopath can
be a little disconcerting to begin with. The
following fact sheet has been developed to
explain exactly what to expect and answer some of the questions you might have. If you have any other concerns, please contact the practice by phone prior to attending your first appointment.
At the start of your first session, your osteopath will ask you to tell them about your problem. They will ask questions about your medical history and lifestyle as well as your symptoms. This is very important as it will help them to make an accurate diagnosis and suggest appropriate treatment. They will write down what you say in your records. These will be kept confidential in compliance with the Data Protection Act 1998. If you wish,you may ask for a copy of these notes, an administration fee may be charged for this. The osteopath will need to examine the area(s) of your body causing discomfort. Sometimes the cause of the problem may be in a different area to the pain, (For example, a difference in leg length may result in compensations in the upper back which might result in neck pain) so they may need to examine your whole body. They will need to feel for tightness in the muscles and stiffness in the joints and may need to touch these areas to identify problems. They will explain what they are doing as they go along. If you are uncomfortable with any part of this, you have the right to ask them to stop at any stage without prejudicing your future treatment. In order to examine you effectively, it may be necessary for your osteopath to ask you to remove some clothing as appropriate or the condition, which might mean undressing down to your underwear. If this is a problem for you, make your osteopath aware of this, and discuss whether it might be appropriate for them to treat you while you wear shorts. The osteopath will suggest a course of treatment, which may require several visits. They may be able to give you an estimate of how often they need to see you and any associated costs by the end of the first session. They will ask for your permission to provide treatment and you may be asked to sign a consent form. Most osteopaths will begin your treatment at your first appointment, but sometimes they may require further tests first i.e.blood tests or scans. Occasionally they may diagnose an illness that they are unable to treat and may suggest that you consult your GP or another appropriate health professional. You may experience mild discomfort with some of the  treatment techniques used, but osteopathic treatment is usually a very gentle process. Your osteopath will let you know if any discomfort is likely and it can be helpful to let them know what you are feeling. If pain persists after treatment, contact your osteopath for advice. You are welcome to bring someone with you for all or part of your consultation. Children should always be accompanied by a parent or guardian. If you have any other questions, ask your osteopath.